Women's Rights In Israel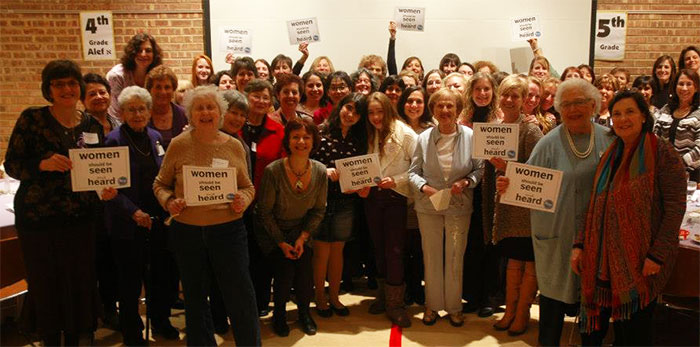 "I believe that the rights of women and girls is the unfinished business of the 21st century," Hilary Clinton said in 2011. Concerns over women's rights in Israel have arisen in recent years as ultra-Orthodox segments of society have continuously attempted to establish "separate, but equal" spaces for men and women in public places, to remove women's voices from public ceremonies and broadcasts, and to banish women and images of women from being present in public life. Below, you will find resources to educate yourself on this topic.
Please click below to see and listen to an interview with Shira Ben-Sasson Furstenberg, an Orthodox woman and a women's rights activist. Shira resides with her family in Israel, where she works at the New Israel Fund. This interview was created specifically for the 2013 Women's Seder by the Women's Seder Social Justice Working Group. For convenience, you may find it more desirable to right click on a link and open the material in a new tab or window.
Video interview with Shira Ben-Sasson Furstenburg
Transcript of interview with Shira Ben-Sasson Furstenburg
RECOMMENDED READINGS:
Women's Images Removed from Ad Promoting Israeli Film in Jerusalem
Israel Rejects Bid to Bar Images of People from Jerusalem Bus
Women Feature in Jersualem Ads for 1st Time in Years
Beit Shemesh Women Challenge "Haredi Extremists"
Female MKs Enter Western Wall After Entry Denied
Crackdown Continues for Women at Western Wall
WHAT YOU CAN DO:
Women's rights in Israel is our problem too – get involved!
become educated on the issues and stay informed
talk about the issues surrounding women's rights in Israel to others
participate in the "Women Should be Seen and Heard" campaign by having your picture taken with the sign (download the sign here) and sending the picture to the New Israel Fund at

[email protected]

when visiting in Israel, participate in Freedom Rides